Walk The Line Review
22:50:00
Hello My Lovely's,

I literally do not have enough words to praise the film I am reviewing today! 'Walk The Line' is one of my favourite films alongside 'Edward Scissorhands' and takes pride of place in my DVD cupboard. The film directed by James Mangold in 2005, focuses on the life of Johnny Cash as he embarks on the infamous Folsom State Prison gig.

It provides the audience on his young childhood, his relationships with his parents, his first wife and the legend who lived alongside him June Carter all in the mids of making a music career that would change the way music is today.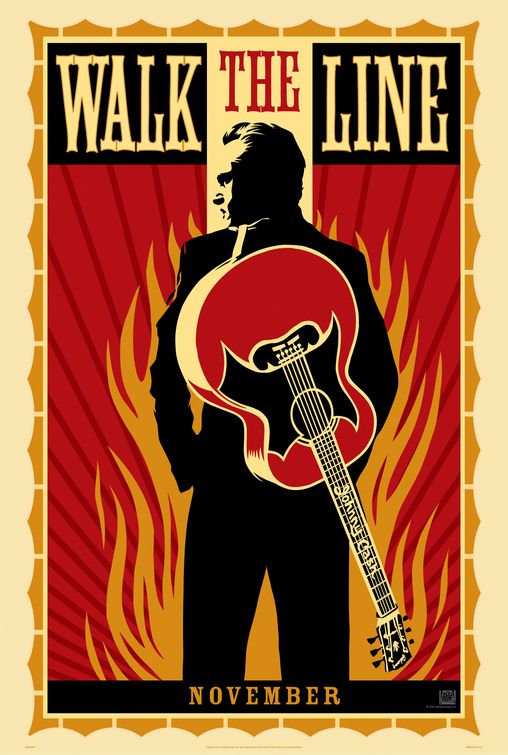 Joaquin Phoenix takes on the role of Johnny Cash with so much confidence that it is hard to not see how determined he is to get the facts and the voice right. Phoenix could of easily ruined his whole career with a horrible version of Cash. Yet he brings something to the screen that is so amazing that you cannot love him! He wants to make every member know Cash's life and not just the horrible side to him.

Johnny Cash contributes to this film in a personal manner as well with the use of his autobiographies being the main plot and I feel that from Phoenix's portrayal you can ultimately see how much time he has spent getting into the mind frame of the legend that lived. He has made a figure for future generations to enjoy and has managed to make Cash's music come back to life. It is so upsetting that Phoenix did not win the award for best actor at the Oscars as he was a very worthy winner!

However the film would not be anything without its female lead. Reese Witherspoon's June Carter has made the female's on screen so much more empowered with how they fight off the male gaze. She has made one of the best women in the music industry be viewed in such a magnificent way! I cannot explain how much she matches the expert choice of Phoenix's Cash.

The pair capture the true love of the most remembered musical couples. They work so hard to make their connection into music deeper then any over films. It isn't an easy task for directors yet Mangold has not bowed down to the norm of romances on screen. He shows the true grittiness of the pair's struggles to be together in a society of people who cannot see beyond the music.

Of course this film would be nothing without its music. I was huge Cash fan before I saw the film as I have been brought up with parents who love him. However while many bow down to the King of music Elvis, I actually feel more of a connection to the music Cash made and am not a huge Elvis fan. Cash's music is displayed in the film showing the troubles that nobody wants to face.

It shows how much work Johnny Cash had to do as a person before he could allow society to fully except him. As a film based around the Prison performance it shows how he allowed everyone to like him and this is why the film is so epic!

I cannot give the film anything less then a ....


5 Star
Until Next Time...
Joey xxx